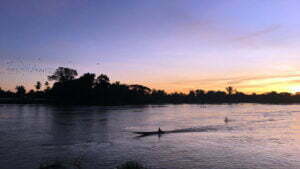 During our travels, we've encountered other travelers who opted to avoid the hassle of crossing the border between Laos and Cambodia by taking a bus back north to Pakse and flying to Phnom Penh from there.
However, as we relaxed by the river on Don Det Island and listened to tales about the border, we were compelled to see it for ourselves. If you're curious about the costs of transportation, getting a visa on arrival, the ongoing Laos-Cambodia border dispute, and the possibility of police scams at the border, read on.
Albeit full of scams, the whole process of crossing the Laos-Cambodia border is very straightforward, safe and rather comfortable.
All guesthouses and travel agencies in Don Det, Don Kohn and the rest of the islands offer similar packages at similar rates. First they pick you up at your guesthouse, then take you to Ban Nakasang across the river, and there you join other tourists in a minivan to the border.
After crossing the border, a bus will take you to either your final destination or to Stung Treng. Most tour packages take you first to Stung Treng, and then have another bus or minivan ready to take you to your final destination in Cambodia.
Transportation prices
The table below displays the prices, but note that some guesthouses may charge around +/- 2,000 LAK more or less than these rates. Bargaining for a cheaper boat ride across the river can also help you save some money that you can use for a meal.
It's possible that some people might offer to take your passport and handle everything for you, either at the bus station in Nakasang or at the border itself. They may charge you between 20 to 40 USD for their service. Although you may be able to secure a better deal through these guides, it's strongly advised not to hand over your passport to anyone. Personally, We don't think it's worth the risk.
Make sure to keep the receipt you receive, as it must be exchanged for the actual ticket to your destination at the bus station in Nakasang.
| Destination | From Nakasang | From Don Det |
| --- | --- | --- |
| Border | 65,000 LAK | 90,000 LAK |
| Stung Treng | 105,000 LAK | 130,000 LAK |
| Ban Lung | 155,000 LAK | 180,000 LAK |
| Kratie | 155,000 LAK | 180,000 LAK |
| Khampongcham | 185,000 LAK | 210,000 LAK |
| Phnom Penh | 205,000 LAK | 230,000 LAK |
| Siem Reap | 185,000 LAK | 210,000 LAK |
| Sihanoukville | 285,000 LAK | 310,000 LAK |
Crossing Cambodia Laos border
There are four steps to Cambodia Immigration : getting the exit stamp, going through the medical check, getting the visa (unless you already have one) and getting the entry stamp.
One of the first surprise fees that can catch unsuspecting tourists off guard is a $2 charge that needs to be paid at the Laos office, where the police guard stamps your passport for exiting the country. If you're traveling alone and happen to be the last one in the group or the day, you might be able to avoid this fee. Otherwise, they may refuse to stamp your passport until you pay up.
When physically leaving Laos and heading towards Cambodia, another police officer will check your passport to ensure that you have the exit stamp.
Then, there's the notorious medical check. As you enter Cambodia, the guide, police, and anyone else around will lead you to a small booth where an officer hands you a yellow paper for a fee of $1. You'll notice that there's no actual medical check involved, and you'll only be given a paper with health guidelines and emergency telephone numbers. However, you can avoid this scam by carrying your international certificate of vaccinations, which is also yellow. If you have it, you can skip this step and save one dollar.
Next up is the visa on arrival necessary for most nationalities (see list here)., which is required for most nationalities (check the list here). All you have to do is fill out a form and provide a passport-sized photo. Don't worry too much about the exact size of the photo, as they accept any size within the typical range. However, instead of the official fee of $30, the police officer might try to charge you $35. Some travelers have managed to negotiate a lower fee (but had to wait longer for the visa). If you already have a visa or eVisa, you can skip this step.
Once you've secured the visa, the last step is getting the entrance stamp. Online forums mention that some travelers had to pay $2 for this, but my travel partners and I didn't have to pay anything. Finally, a guard will check that you have a stamped visa before letting you into beautiful Cambodia. From there, you might find yourself stuck in a terrace restaurant for a few minutes or hours until a bus arrives to take you to your destination.
Summary
Visa on arrival: 30 USD
Fee for visa on arrival at land border: 0-5 USD
Laos exit stamp: 2 USD
Optional medical checkup: 0-1 USD
Cambodia entrance stamp: 0-2 USD
TOTAL: 30-40 USD (for most travellers 38 USD)
Map of Cambodia – Google Link
If you take a flight and apply for a visa on arrival at an airport in Cambodia, you will only pay 30 USD and avoid all the extra fees.
If you apply for an eVisa, the official government website charges 36 USD. Adding the exit stamp and medical checkup, most travelers would then pay 39 USD in total. Note that an eVisa might take up to 3 days to arrive, and needs to be printed.
Our advice is to prepare 40 USD beforehand (at least 10 USD of those in notes of 1 USD). Note that Cambodia's currency is the American dollar (and the Cambodian riel), so don't worry about extra dollars in your pocket.
There are ATMs and money exchange offices in Pakse and Nakasang. There is also a place near the bus station where you can have ID photos taken.
FAQs
Q. How to get from Laos to Cambodia cheap? A. The cheapest way to get from Laos to Cambodia is via bus which costs  $35-40$ and takes 19h 10m.
Q. What is the best time to visit Laos and Cambodia or What is best time of the year to visit Angkor Wat?  A. Between November and May is the best time to visit Laos and Cambodia (and Angkor Wat) when the rainfall is low and temperatures are still warm
Q. What are the key places to visit in Laos and Cambodia?
A. Main Places to visit in Laos:
Si Phan Don (4000 ISLANDS), Champasak
Wat Phu, Champasak
That Luang, Vientiane
The Plain Of Jars,Xiangkhoang Plateau
Main Places to visit in Cambodia:
Angkor Wat (Angkor Archaeological Park)
Phnom Penh
Koh Rong Samloem
Siem Reap
Q. What is the worst time to visit Cambodia? A. Generally, the rainy season, which lasts from May to October, can be challenging for visitors as it brings heavy rainfall, high humidity, and flooding in some areas. The weather can also be unpredictable, with sunny days turning into downpours in a matter of minutes. Additionally, some tourist destinations, such as the temples of Angkor, can be muddy and difficult to access during the rainy season.
Q. Is there a train from Cambodia to Laos? A. I'm sorry, there is currently no direct train service from Cambodia to Laos. However, there are a few options to travel between the two countries, like Bus, Flight or Combination of bus and flight
Q. What is Hai di Lao Hot Pot Century City? A. One might get confused the relationship with Laos, however, Hai Di Lao is a popular hot pot chain with locations in several countries around the world, including the US.
The Century City location is in Los Angeles, California.
The restaurant offers a variety of hot pot options, including meat, seafood, and vegetarian options.
In addition to the hot pot itself, the restaurant offers a range of appetizers, side dishes, and beverages.
Reservations are recommended, especially during peak dining hours.
In Laos one can enjoy hot pot at Vientiene,LA
BE THE FIRST TO COMMENT