A popular stop for travelers touring the island of Borneo, Brunei Darussalam stands out as an expensive country that runs on oil and features entire communities who live on water villages and it follows Brunei religion Islam. 
The meaning of  Bandar Seri Begawan, it gets name from the official Malay name, which means Seri Begawan City when translated. The name was given in honor of Sultan Omar Ali Saifuddien III, who was the 28th Sultan of Brunei and the father of the current Sultan Hassanal Bolkiah. Bandar Seri Begawan population is 100,700, 
There is an authoritarian vibe in the air, and an obvious gap between classes in the streets. It is certainly a very interesting place to visit. Most of the stuff to see and experience is in Bandar Seri Begawan (BSB), بندر سري بڬاوان (Jawi), the capital city.
Boats to the beautiful Ulu Temburong National Park and buses to the northern beaches are available here.
In Brunei,
Good morning = Selamat pagi ("seh-la-mit-pay-jye")
Hello = As-salaam-alaikum
Thank you = Terima kasih ("ter-ee-mah-kah-see")
Basics
When to go: Best time between January and May. Avoid rainy season from September to December, during which it rains intermittently.
Where to go: Definitely stay in central Bandar Seri Begawan, by the river. Bus station and most of the points of interest, landmarks and restaurants are there.
Money: Currency here is Brunei Currency i,e Brunei dollar (BND), albeit Singaporean dollars are used indistinctively. There is an HSBC ATM downtown.
Visa: More than 50 nationalities (including EU) can enter the country without a visa. On arrival transit visa is available for up to 72 hours.
Airport : Bandar seri begawan airport code – BWN
At the time of writing, 1 EUR = 1.42 BND.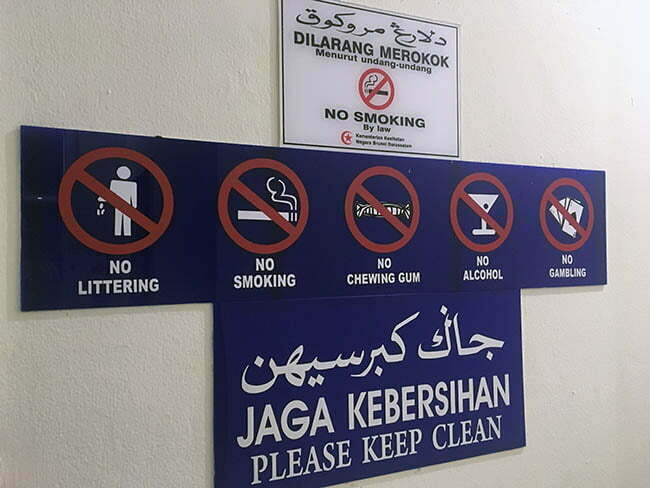 Transportation
Get in and out
Brunei International Airport serves this country with flights to all neighbor countries and also London, Dubai and Melbourne. No direct flights are available yet to other airports of the island. Buses 23, 24, 34, 38 and 57 run between the bus terminal in BSB and the airport; ticket is about 1 EUR.
Crossing overland from Malaysia is very straightforward. Most Western countries can enter Brunei visa-free, make sure to check the policy for your nationality in case you need extra documents for a visa.
You can also get in and out of the country by boat via the ferry terminal in Serasa, north Brunei. Serasa-Kota Kinabalu (Malaysia) is a popular ferry route.
To reach Ulu Temburong National Park, take a boat from the eastern ferry terminal (by the big bridge, at coordinates 4.875700, 114.950855). One-way tickets cost 6 BND.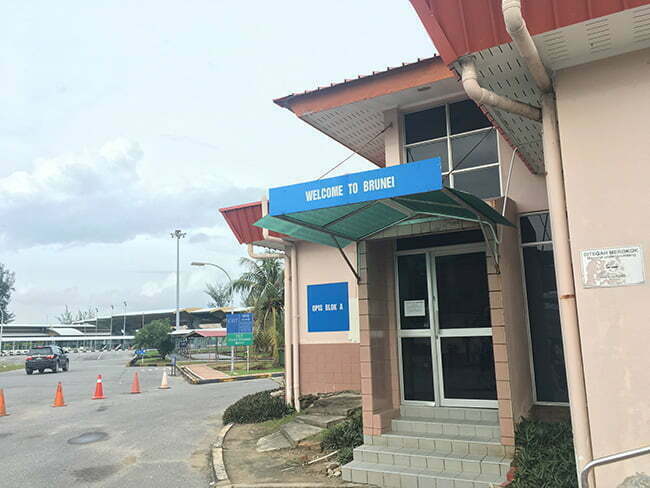 Get around
Definitely use the cheap public buses to move around BSB and its surroundings, including daytrips to northern beaches.
To visit and get around the water village, take taxi boats or the taxi bus. You should bargain so as not to pay more than a couple of Brunei dollars for getting in and out from downtown BSB.
---
Sleep
Coming from Malaysian Borneo, accommodation in Brunei might be suddenly expensive. There are two cheap options: Airbnb and the Youth Centre. Do not bank on CouchSurfing, as most users there are not active, and the ones who are are seldom available to actually host. They will still be able to show you around the city, though.
Besides Airbnb, the only cheap hostel in town is the Youth Centre (10 BND/night), also called Pusat Belia. Good location and a big swimming pool. Coordinates of the place: 4.892847, 114.944039. It does not show up on accommodation websites and sometimes not even on Maps apps. Staff is missing most afternoons and on Fridays, but do go in anyway. The outside door looks locked but is not, and can be opened easily.
We arrived at Youth Centre around 6pm and found no staff at first. After looking around, we decided to open the door from outside, and went in to find a bunch of youngsters playing badminton. We walked around the place until we finally spotted a worker, and he wrote down our names and gave us the keys.
The place is really chill and the staff is very relaxed, so don't worry about formalities: if you can't find a staff, try to find a traveler who can let you into a dorm for the night and talk to the clerk the next morning.
---
Food and Drinks
Brunei is a dry country, and that means no alcohol is sold anywhere (supposedly). Pork dishes are also not available.
Amin Said: cheap and delicious restaurant with the best roti bread dishes in town, as well as plenty of beef, chicken and vegetarian dishes. Make sure to get a Roti Susu Manis for desert.
Seri Damai Restaurant: run by a very nice and friendly Pakistani family, this restaurant has an extensive menu with local, Pakistani and Indian dishes.
Nasi Mama: locals line up for takeaway at Nasi Mama for a reason. Exquisite and cheap.
Downtown night market: indulge in all the delicacies of the Brunei cuisine, endless takeaway stands and dining area with chairs and tables. Other good night markets include Gadong and Kianggeh.
De Royalle Cafe: go here if you need WiFi, a cafe open 24h every day with average teas and okay-priced breakfast and brunch options. Definitely cheaper than other Western-style cafes.
Activities
Sail around Kampong Ayer, the Water Village across the river. Amaze yourself at the on-the-water infrastructure of an entire community. Around 40,000 people live in the village. Houses, markets, schools, bars, fire and police stations are connected by wooden bridges, and there is a boat bus to move faster. Bargain a tour with a boat owner until you are satisfied (5 BND per person is reasonable).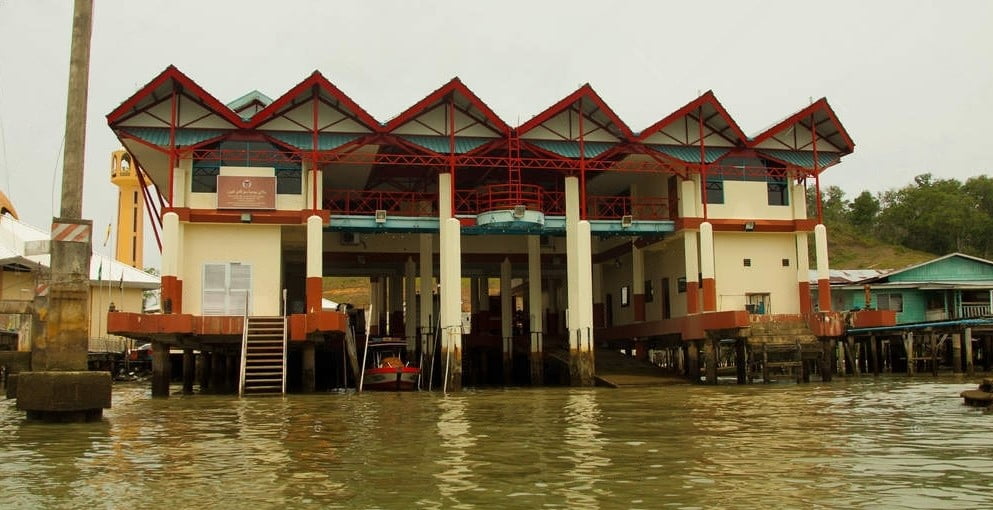 Ask the boat man to take you into the mangroves that form the southern shore of the river. Green, lush and wet, a beautiful ride.
City landmarks include the majestic Sultan Omar Ali Saifuddin Mosque, the Jame'Asr Hassanil Bolkiah Mosque and the Mercu Dirgahayu 60 monument. If you're out for urban exploration, include the narrow streets of the skyscraper district in your itinerary.
Daytrip to the vast and wild Ulu Temburong National Park. This park is about one tenth of the total area of the country, and can only be reached by boat. A one-way boat ticket down the river till Bangar costs 6 BND. From there, the trails of the park can only be accessed by boat, and treks are mostly done with a guide. Check tour prices at the harbor or on the website of any of the resorts located along the river, expect to pay at least 120 BND.
Daytrip to the northern beaches of Brunei: Pantai, Serasa and Tungku. They are not award-winning, but still good to relax.
Night markets! That's nightlife in Brunei for you!
See the Sultan. The Sultan of Brunei lives inside the huge Istana Nurul Iman palace. Unless you happen to be in the city during the few days where the palace is open to tourists, all you can do is take a bus and drop by the entrance of the palace. Ask the royal guards about the Sultan's timetable, and see if he is going in or out of the palace any time soon. We saw him return to the palace (he was driving a black Jeep preceded by police motorbikes and two other cars) and he smiled and waved at us. It was a weird and rather pointless experience, but we didn't have anything else to do that day. Additionally, everyone in town will be happy to talk about the royal family. It is a short bus ride away from central BSB.
Check out the Pantaran Air Terjun waterfall, located inside a sort of playground forest park area. A small climbing wall is located next to the waterfall, with bolts ready in case you have your gear with you. A short trail leads to cool viewpoints.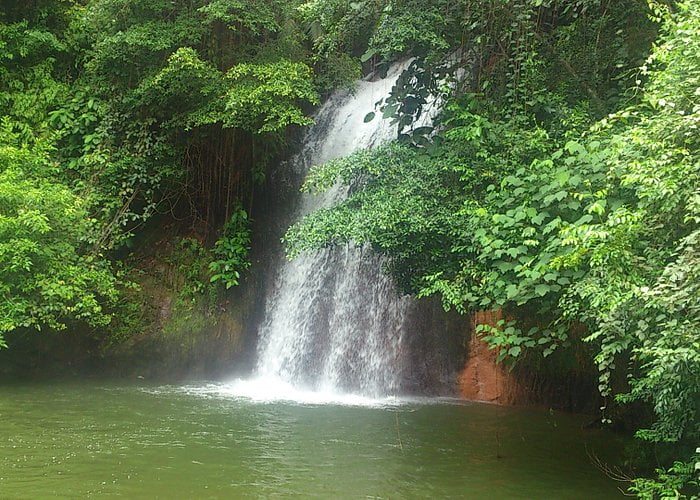 FAQs
Q: What is Bandar Seri Begawan meaning? A:  The name Bandar Seri Begawan is derived from the official Malay name, which translates to Seri Begawan City. It was named after Sultan Omar Ali Saifuddien III, the 28th Sultan of Brunei and the late father of the current Sultan Hassanal Bolkiah.
Q: Where is Brunei and Bandar Seri Begawan located? A: Brunei is a small country located on the island of Borneo in Southeast Asia. Bandar Seri Begawan is the capital city of Brunei.
Q: What is the best time to visit Brunei and Bandar Seri Begawan? A: The best time to visit Brunei and Bandar Seri Begawan is between January and April when the weather is typically dry and pleasant.
Q: What are some popular attractions in Brunei and Bandar Seri Begawan? A: Some popular attractions in Brunei and Bandar Seri Begawan include the Omar Ali Saifuddien Mosque, the Royal Regalia Museum, Kampong Ayer (the Water Village), and Tasek Lama Recreational Park.
Q: What is the local currency in Brunei? A: The local currency in Brunei is the Brunei dollar (BND).
Q: What language is spoken in Brunei and Bandar Seri Begawan? A: The official language of Brunei is Malay, but English is widely spoken and understood.
Q: Do I need a visa to visit Brunei? A: This depends on your country of origin. Citizens of some countries are eligible for visa-free entry, while others may require a visa. It is recommended that you check with the Brunei embassy or consulate in your country for the most up-to-date information.
Q: Is it safe to travel to Brunei and Bandar Seri Begawan? A: Yes, Brunei is generally considered a safe country to travel to. However, it is always important to take basic safety precautions, such as being aware of your surroundings and not carrying large amounts of cash or valuable items.
Q: What is the food like in Brunei? A: Brunei's cuisine is a blend of Malay, Chinese, and Indian influences, with dishes such as nasi lemak, satay, and curry being popular. Seafood is also a common ingredient in many dishes, as Brunei is located on the coast.
Q: What is the local culture like in Brunei and Bandar Seri Begawan? A: Brunei's culture is heavily influenced by Islam, with many of the country's customs and traditions reflecting this. Visitors should be respectful of local customs and dress modestly, particularly when visiting religious sites.
Conclusion
In conclusion, Brunei and Bandar Seri Begawan offer visitors a unique and intriguing experience in Southeast Asia. Despite being a small country, Brunei has much to offer, including stunning mosques, cultural attractions, and natural beauty. The capital city of Bandar Seri Begawan is a charming and picturesque destination, with a mix of traditional and modern architecture. Additionally, the local cuisine and culture provide a fascinating glimpse into Brunei's history and influences. With its welcoming locals and safe environment, Brunei and Bandar Seri Begawan are well worth a visit for anyone interested in exploring this part of the world.
Do you have any tips for visiting Brunei and Bandar Seri Begawan? Write them in the comments section below!