Bagan boasts one of the most breathtaking man-made wonders on the planet, rivaled only by other awe-inspiring sites such as Cambodia's Angkor Wat, making it a must-visit destination on every traveler's bucket list.
As a true gem of Southeast Asia, Bagan caters to travelers of all budgets, offering a range of memorable experiences.
Whether you spend a few days exploring the thousands of temples scattered throughout the region or indulge in other activities, Bagan promises an unforgettable and enchanting adventure in Myanmar.
About
Myanmar's crown jewel, Bagan, boasts over 2,000 exquisite temples and pagodas dating back to the 13th century.
To fully immerse themselves in the wonder of this historic site, visitors often spend their days exploring the area on rented electric bikes, searching for the perfect vantage point to witness the stunning sunsets and sunrises that grace the horizon.
Surrounded by lush forests, ancient temples, and a majestic river to the north-west, Bagan's early morning hot air balloon rides offer a truly breathtaking and unforgettable view of the region.
Entry Fees
The fee to enter Bagan is 25,000 kyat and is valid for a three-day period. While there are ways to bypass payment, I do not condone such actions.
In my personal experience, I hitchhiked to Bagan and the driver did not stop at any payment booth. However, it is important to note that there is a checkpoint at 21.176699, 94.883322, located north of Anawrahta Road.
Although it is unlikely that anyone will ask for proof of payment once inside Bagan, it is still recommended to purchase an entrance ticket to support the preservation and maintenance of this historical and cultural treasure.
As of Feb 2023,
1 EUR = 2,218.95 MMK (kyat)
2,098.79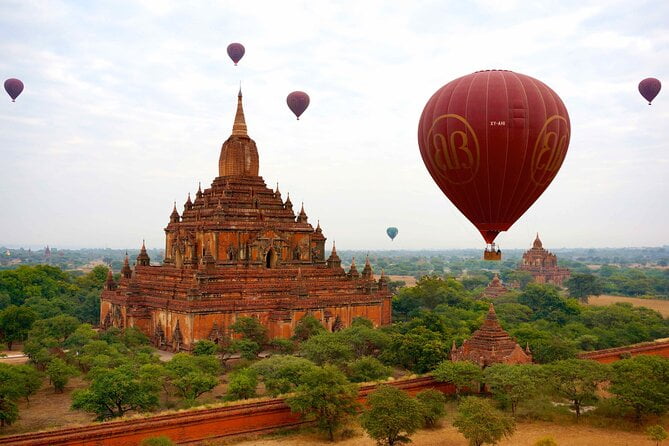 How to reach Bagan
Convenient bus routes to Bagan (Nyaung U) are accessible from all major cities in Myanmar, including Yangon, Mandalay, and Inle Lake.
Bus – Travelers can purchase bus tickets through their hostel or hotel, or can arrive at the bus station and buy tickets directly. Prices may fluctuate based on factors such as distance, time of day, and level of comfort.
For those traveling from Inle Lake, buses make stops at Shwenyaung, Taunggyi, and Kalaw before arriving in Bagan.
| From | Duration | Departure | Price (MMK) | Main stations |
| --- | --- | --- | --- | --- |
| Yangon | ~9-11h | 08:30, several daily, 22:00 | 13,000-15,000 | Aung Mingalar Highway Station, Airport Bus Station |
| Mandalay | ~5-8h | 05:30, several daily, 22:00 | 7,500-8,500 | Chan Mya Shwe Pyi Highway Station, Pyi Gyi Myat Shin Bus Terminal |
| Inle Lake | ~9h | 08:30, several daily, night bus | 15,000-25,000 | Nyaung Shwe Bagan Min Thar, Shwenyaung Junction |
Train – the same journey by train offers a range of prices depending on seat class.
From
Duration
Departure
Price (MMK)
Yangon
~17h
~16:00
4,500-16,500
Mandalay
~11h, 8h
07:20, 21:00
1,300-1,800
Inle Lake
(only possible via Yangon)
Boat – You can embark on a leisurely slow boat journey between Mandalay and Bagan, with prices starting at around 45,000 MMK and the journey taking approximately 10-12 hours.
The boat departs from Gawwein port in Mandalay at 07:00 and from Bagan at 05:00 in the morning. For those interested in learning more about this unique travel experience, check out the article by IndianaJo.
Flight – The fastest means of reaching Bagan is by taking a flight to New Bagan airport. Flight prices commence at approximately 140,000 MMK (~67 USD) from both Yangon and Mandalay.
Other ways to travel into Bagan
Families or groups of travelers may opt to split the cost of a private taxi to travel to Bagan from any major city in the country. The prices for this mode of transport typically range from 60 to 100 euros.
Another option, which I used myself, is hitchhiking.
A popular sightseeing spot en route to Bagan is Mt. Popa
Explore Bagan's vicinity
Bicycles are a popular option for exploring Bagan, but they can be time-consuming for covering longer distances. It is not uncommon to spot groups of backpackers on e-bikes, zipping through the ancient ruins and chasing sunrises.
E-bikes can be rented from numerous places in New Bagan and Nyaung-U, including hotels and hostels. Make sure to rent an e-bike with a fully charged battery to last you from sunrise to sunset.
You can check out Shwe Sabal (21.193128, 94.904260) for competitive pricing.  The rental is managed by a friendly middle-aged woman. If you plan to rent an e-bike early in the morning, like at 4AM, just inform her the day before, and she will have the bike ready and charged for you.
Alternatively, you can hire a private driver who can take you to some of the coolest places in Bagan. If you decide to rent a taxi, be sure to negotiate a fixed price in advance.
Stays
When planning a trip to Bagan, choosing between staying in New Bagan or Nyaung U doesn't make much difference. Since you'll likely spend your days exploring on a bike, mobility won't be an issue. Most hotels and hostels in the area can help you rent e-bikes, purchase tickets for local transportation, and book long-distance buses, so don't stress about logistics.
For budget-friendly accommodation, consider
Lux Pillow Hostel (City Centre) in Nyaung U. Very affordable (4 EUR). Here I met a bunch of travellers, including a couple I had travelled with in Hsipaw. It is close to a few shops and restaurants, and the owner is a nice young guy
The Dormitory rooms of Hotel Royal Bagan, in Nyaung U. For the price of a dorm room, you have access to a pool and a free buffet breakfast! The rooms are very clean and modern. Maybe the best option in town for solo travelers or groups of friends. You can also book the more expensive private rooms from the hotel. (~10 EUR dorms)
Ostello Bello and Ostello Bello Pool (with a swimming pool) in New Bagan, the first option for travellers who want to meet other travellers, be more social and enjoy parties. Very modern and hip. (prices start at ~10 EUR for both)
BaoBed: another backpacker favorite, located north of Anawratha Road. I only stayed here one night. The rooms are clean and fresh, and it has a pool to relax during the hottest hours of the day. (~9 EUR dorms)
Fancier places:
New Park Hotel: very popular choice with amazing staff. Well located, awesome value for money, great for couples. (~20 EUR) The Hotel at Tharabar Gate: I would stay here if I was on my honeymoon. The whole place looks fantastic. I passed by this hotel a few times and wished I was staying here; the travellers coming out of it always looked very happy. (70-400 EUR)"
Food and Drinks
Discovering local cuisine is one of the highlights of any trip, and Bagan is no exception. The food scene in Bagan is diverse, with plenty of options to satisfy all palates and budgets. From street food stalls to high-end restaurants, there is something for everyone.
For a true taste of Myanmar, try the traditional dish called Mohinga, a breakfast soup made with fish broth, rice noodles, and spices. Another popular dish is Shan-style noodles, which come with a variety of toppings and sauces.
If you are feeling adventurous, head to one of the local markets and try some of the exotic fruits and snacks on offer. Betel nuts are a popular local snack that can be found everywhere, but be warned – they are an acquired taste!
Bagan is also home to several cafes and bakeries that serve delicious coffee, pastries, and cakes. For a refreshing drink, try some fresh coconut juice or Myanmar beer.
No matter what your taste buds crave, Bagan has plenty to offer. Don't hesitate to ask locals for recommendations, as they are always happy to share their favorite food spots with visitors.
Recommendations
If you're looking for great food options in Bagan, check out recommend The Moon (2) : Be Kind To Animals located in New Bagan. Not only do they serve a wide variety of dishes including delicious curries, but they also make the best lassis around!
Another great option for vegetarian fare is their sister restaurant, Be Kind To Animals, located in Old Bagan.
For a more relaxed dining experience, head to the eastern end of Anawratha Road where you'll find a selection of affordable and tasty restaurants serving up exquisite dishes in a peaceful atmosphere. It's the perfect spot to unwind after a day of exploring and catching the sunset.
One place to steer clear of is the overpriced and touristy "restaurant street" on Thiripyitsaya 4 Street. Save your money and enjoy a more authentic dining experience elsewhere.
Activities
Sunrise and sunset
If you're looking for an unforgettable experience in Bagan, watching the sunrise and sunset should be at the top of your list. Many visitors spend their days exploring the area and taking note of the most beautiful spots so they can return for the magical sunrise and sunset views.
For an updated list of the best places to catch these breathtaking moments, check out another article I've written on the topic. It's worth making the effort to watch as many sunrises and sunsets as possible from different locations throughout your stay in Bagan. Each one is sure to be a unique and unforgettable experience
FAQs
Q. What are the best places to watch sunrise and sunset in Bagan?
A.
Some of the best places to watch sunrise and sunset in Bagan include:
Shwesandaw Pagoda – This is one of the most popular spots in Bagan for sunrise and sunset. The pagoda offers a stunning view of the surrounding temples and pagodas.
Buledi Pagoda – This pagoda is located near Old Bagan and offers a beautiful view of the sunrise and sunset. It's a great spot to watch the hot air balloons in the morning.
Pyathada Pagoda – This pagoda is located on the eastern side of the Ayeyarwaddy River and offers a panoramic view of the river and the surrounding temples.
Ta Wet Hpaya Pagoda – This pagoda is located on the western side of the Ayeyarwaddy River and offers a stunning view of the river and the surrounding temples.
Lawkaoushaung Pagoda – This pagoda is located in New Bagan and offers a great view of the sunset. It's a popular spot for locals and tourists alike.
Dhammayan Gyi Temple – This temple is one of the largest in Bagan and offers a stunning view of the sunrise and sunset. It's a great spot to watch the sun rise over the nearby temples and pagodas
There are many other great spots to watch the sunrise and sunset in Bagan, so be sure to explore and find your own favorite spot.